6 THINGS TO CONSIDER BEFORE BUYING A PLOT IN HYDERABAD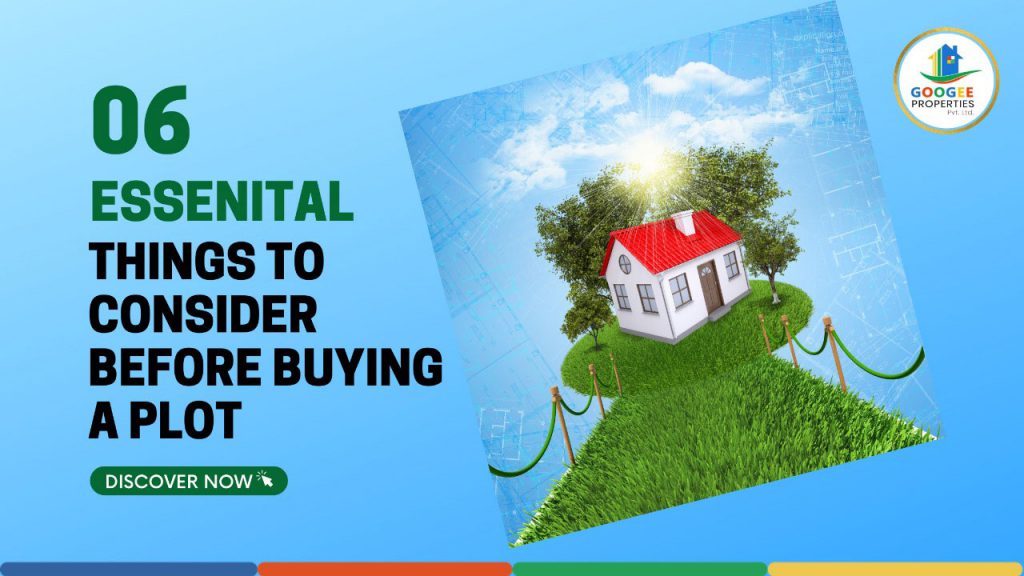 GREAT LOCATION….? Yes. We know that would be the first thing that strikes our mind as soon as we
read the title. But is it the only factor by which we should go ahead and purchase a plot in and
around Hyderabad? Definitely Not!

Of course, it is a crucial factor that carries a significant weight in our decision. But with the rapid urbanization and exponential growth of the localities surrounding the City of Pearls in all directions, there are a few additional things we should consider along with the location before taking one of the biggest steps in our life!

SPACE & FLEXIBILITY

Building a house of our dreams or owning a property that we've desired should never be riddled with compromises. Even though we can afford a costly plot in the Centre of the city, we would have to settle for lesser area which might not meet the criteria and flexibility to construct that humble abode we have envisioned. Aim to find that plot which strikes the perfect balance between location and space.

CONNECTIVITY

Anyone would love a plot in a strategically-placed location that is well-connected to all the top destinations of a city as well as other major cities and towns in the state with excellent roads. In this aspect, those who are planning to purchase a plot not in the city limits but also in the outskirts of Hyderabad are in for an absolute treat!

In addition to the Outer Ring Road which has already made it easier for commuters to travel to their choice of location in the city, the proposed Regional Ring Road will further connect more than 120 towns and villages, thus enabling travelers to reach any destination in the state in a great time. As far as connectivity is concerned, many investors are showing great inclination in choosing a plot between these roads which are in turn connected by highways like Sagar and Srisailam.

INFRASTRUCTURE

One more obvious factor that we should consider is the quality of infrastructure that is available in the location that we're planning to purchase a plot at. Incidentally, Telangana Government has directed its focus in developing the infrastructure and providing facilities in addition to roads such as drainage, water supply, round-the-clock power supply to Southern and Eastern parts of Hyderabad. The officials are taking that extra care in ensuring that the industries established in the region are facilitated with sustainable, eco-friendly technologies so that the surrounding regions stay pollution free!

AMENITY-RICHNESS

At the end of the day, all we need is a convenient and stress-free life. Along the spacious location and good-connectivity, the community we live in should be laden with a range of amenities that makes our everyday living comfortable and peaceful. Make sure that we are purchasing a plot in a community that has wide roads, dedicated play area for kids, compound walls with gates for enhanced security, avenue plantation for a green and serene environment, rigid maintenance, underground drainage & sewage system, and water-harvesting facilities among others.
SCOPE FOR PRICE APPRECIATION

There is always a great market for real estate when an area shows great promise for businesses – small, medium, and large. It is always recommended to think long-term and choose an ideal project location where there is a scope for growth of businesses and establishment of new companies with passing time. This is especially essential for those who are planning to purchase a plot for an investment purpose.

With the Telangana Government focusing on developing IT parks and infrastructure along the Southern and Eastern parts of Hyderabad, top players in realty sector have already commenced developing well-networked, strategic locations into plots with rich amenities. These plots are sure to bring rich rewards whether we are aiming for either residential or investment purposes.

BUILDER/SELLER REPUTATION

It is always recommended to verify the builder's or property company's previous projects and their reputation in the market before going all in. We can gain complete assurance of the promised amenities and timely completion of the project by checking the customer testimonials across genuine websites as well as talking to their previous clients.